Let us take a peek into the world of the rich and famous. Check out where they celebrate in the world's most luxurious accommodation on the planet.
Have you experienced the high-rolling lifestyle or tried to get a peek inside a world-class luxury hotel? If you haven't, you are at the right place. Because every bit of detail you will read below is going to fascinate you beyond your wildest imagination. The luxe and glamour will make you want to visit these rich and famous hotels at least once in your lifetime.
Wouldn't you like to know the most expensive hotels in the world? Below, you will learn more about the most luxurious hotels in the world. You will gather information about the biggest hotels in the world and the luxurious service they offer. What makes them stand out? And nothing screams more luxury than some of the most sought-after 7-star hotels in the world, featuring magnificent architecture, world-class amenities, and fine dining, offering an exceptional experience for the elite.
The most expensive hotels in the world and their destination are;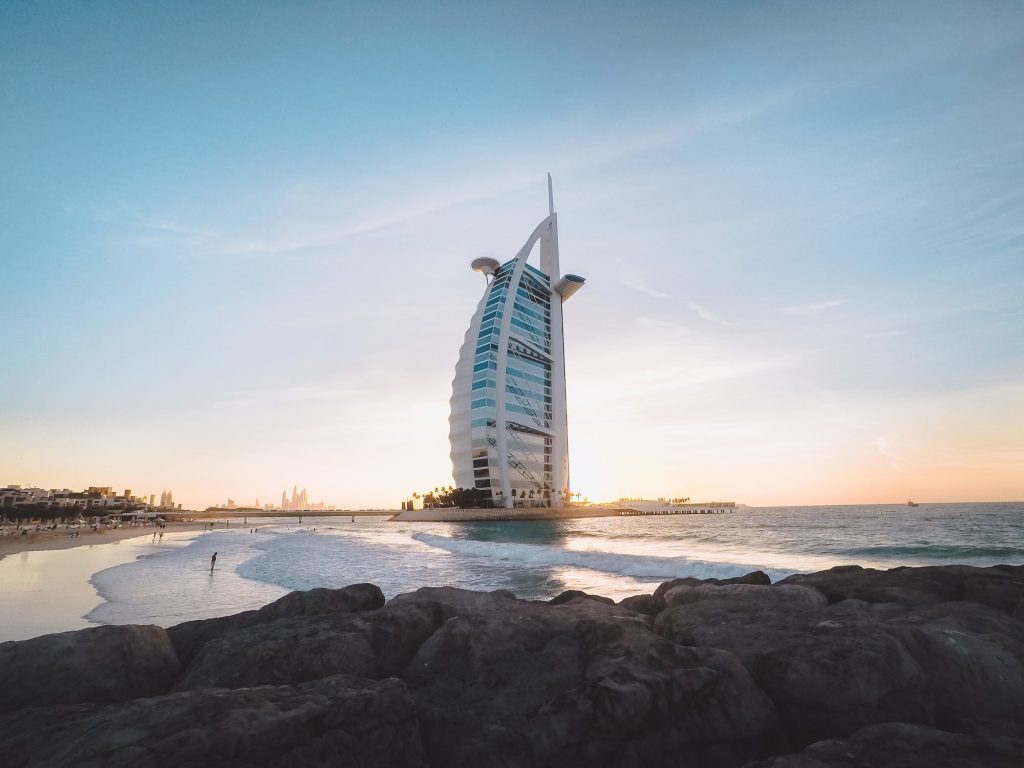 1. Burj Al Arab, Dubai
Dubbed as the world's first 7-Star hotel in the world, Burj Al Arab is an exquisite masterpiece to the eyes. This national iconic luxury hotel of UAE was opened officially for business in 1999. The architecture gives an impression of an Arabian dhow sail and is the seventh tallest hotel globally.
Burj Al Arab is built upon the typical middle eastern white sandy beaches of an artificial island. Yes, you heard it right. An artificial floating land specifically for the beautiful hotel to be suspended on the Arabian Sea. Another first of many achievements about this mesmerising luxury hotel.
The 28 double-story all-suite hotel has 202 luxury duplexes, the world's largest "Swarovski" crystal ceiling, six elite class restaurants, a Rolls Royce shuttle service, and a world-class helipad that has supported not just helicopter landings but also tennis matches and celebrities from the cinema world and sporting legends. The hotel interior is adorned with around 1,800 square metres of 24-carat gold leaf.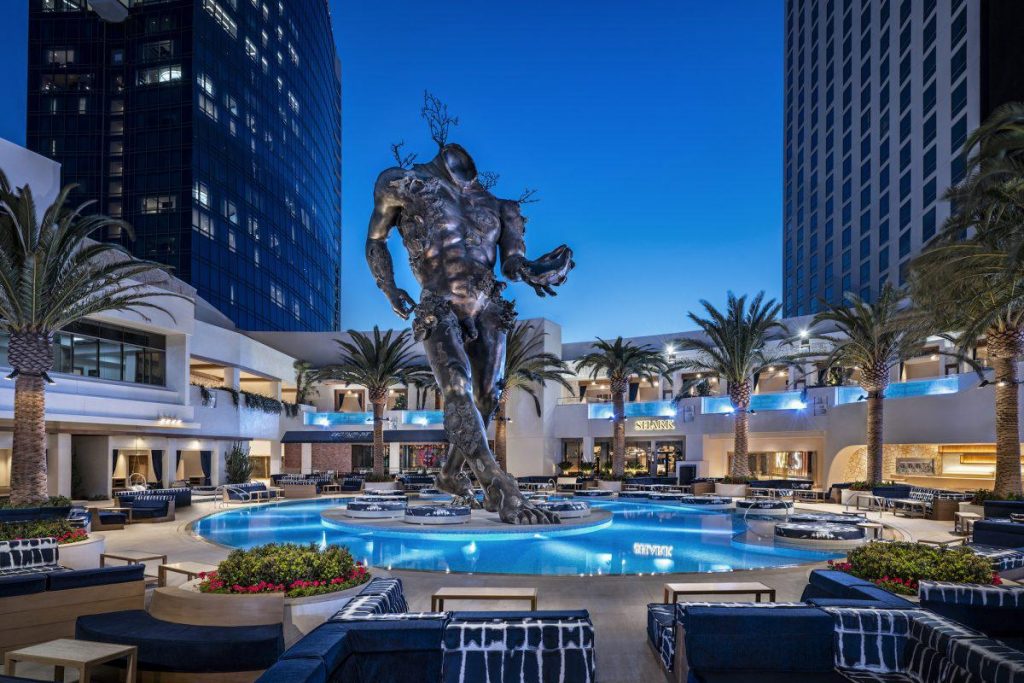 2. The Palms, Las Vegas
The Palms is a world-famous, iconic luxury hotel in the rich and famous American destination of Las Vegas. As one of many iconic properties of Las Vegas, The Palms has entertained the Hollywood legends and the elite in every speciality due to the high-profile parties and gala events that have been conducted here.
The 8,500 square-foot oases are equipped with a 17-seat bar, world-class fitness centre, private pool overlooking the lights of Vegas, exotic massage parlours, and many more such entertaining avenues. In addition, the Palms has two towers consisting of 703 posh hotel rooms and a 94,065 sq. ft luxury casino.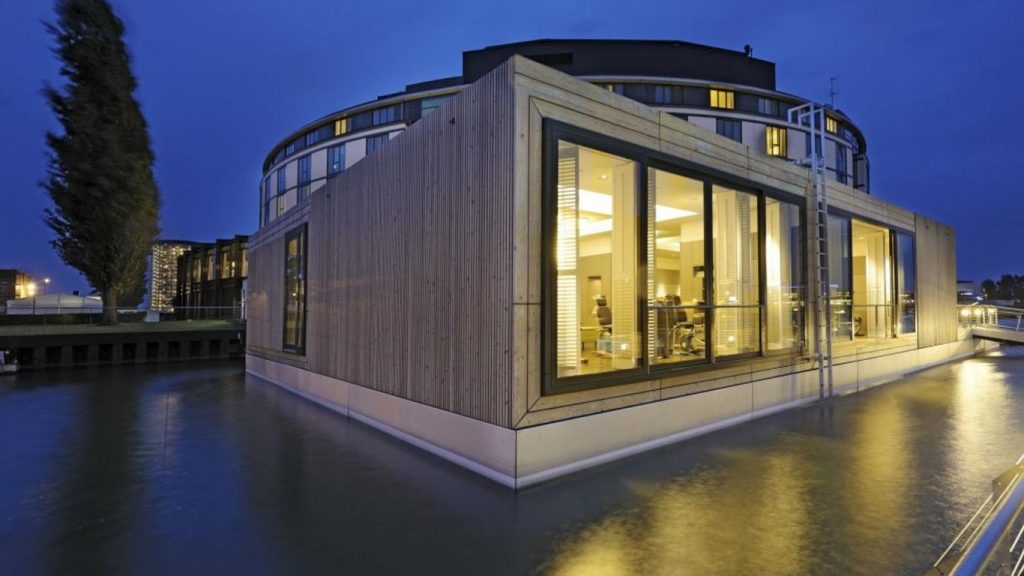 3. The Ritz Carlton Wolfsburg, Germany
This 5-Star luxury hotel overlooks the Autostadt, aka Volkswagen auto manufacturing plant. The view of the surrounding innovative buildings ranges from the speciality of design, art, automotive, and culinary fields through the floor-to-ceiling windows, which add to the excitement.
The Ritz Carlton luxury property also includes a famous 3-Star Michelin restaurant called "Aqua," which serves its prominent guests with modern European cuisine, a floating outdoor swimming pool in the harbour basin, and a relaxing comfort spa providing the best organic treatment, among other amenities.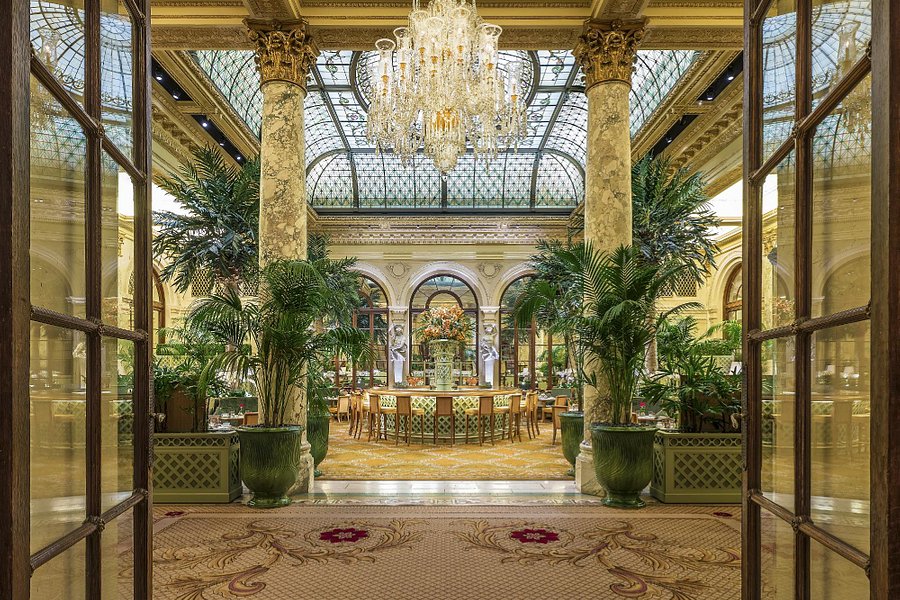 4. The Plaza, New York City
The Plaza is yet another iconic luxury property added to this list of luxury and expensive hotels in the world that too has hosted a long string of world leaders, movie stars, sporting legends, and Broadway royalty. This is a historic piece of property that has stood the test of time and economic prosperity.
Opened in 1907, The Plaza offers a "One-Of-A-Kind," entertaining, luxury, and expensive hotel rooms & suites, sharing a unique — and luxurious — experience. The Tower Room, for example, features an eye-catching 23-foot exposed brick turret ceiling. The Fitzgerald Suite King, designed by Oscar-winning designer Catherine Martin as a tribute to the Jazz Age and F. Scott Fitzgerald, are just some of the famous sections of this luxury hotel.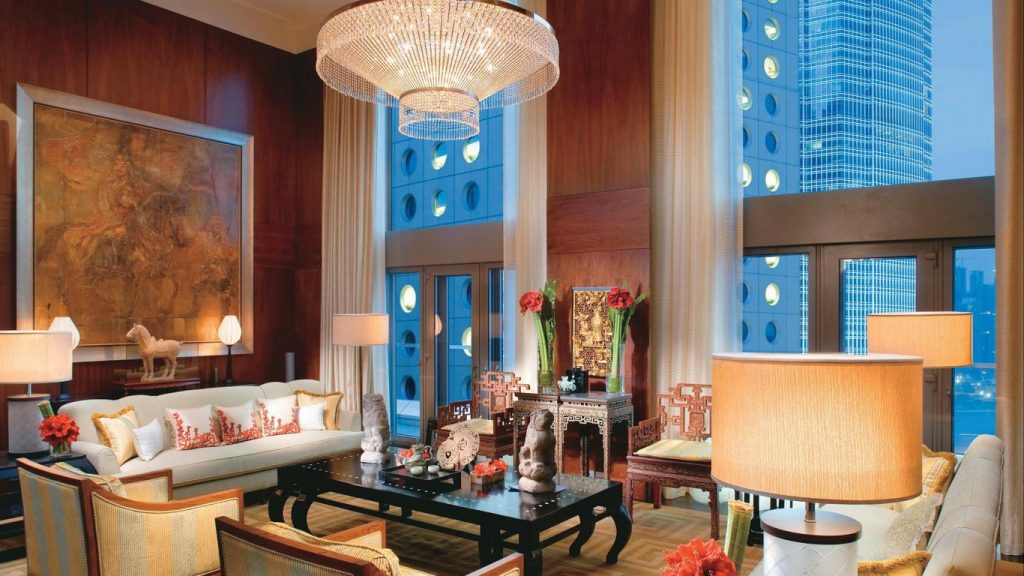 5. Mandarin Oriental, Hong Kong
Located in the bustling heart of Hong Kong Island city, it is the famous flagship luxury hotel that combines a rich, diverse local experience and modern world-class amenities. The Mandarin Oriental exudes a contemporary design. The 501 rooms and suites overlook the beautiful Victoria harbour and the gorgeous city skyline.
The Mandarin Suite is a particularly significant entertaining area that has a long-stretched balcony on both sides for unparalleled vistas. This luxury hotel is also home to world-class business facilities that cater to international conferences or events, appealing to top business management and tycoons around the world.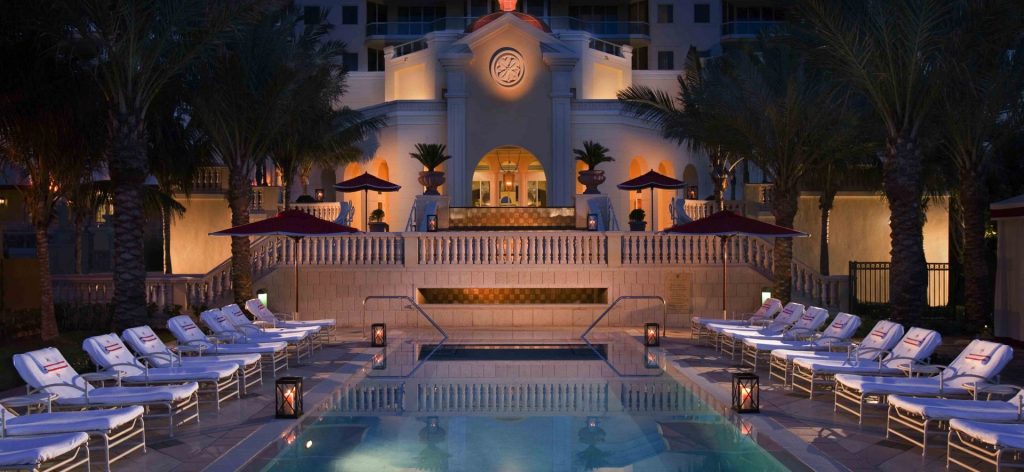 6. Acqualina Resort, Miami
This resort is a unique luxury property home to the world's most extensive collection of independently owned Rolls Royce's. The resort offers its distinguished guests the privilege of owning a Rolls Royce Phantom super luxury car for the duration of your stay if you book three or more nights at their "Grand Deluxe Ocean-front Suite."
Each of its 54 rooms and 44 suites has planned oversized floors and outdoor terraces designed by Isabel Tragash – a famous designer, to give the staying guests a memorable luxurious experience. The hotel also offers three oceanside pools, outdoor seating areas, living-room-style, and world-class dining.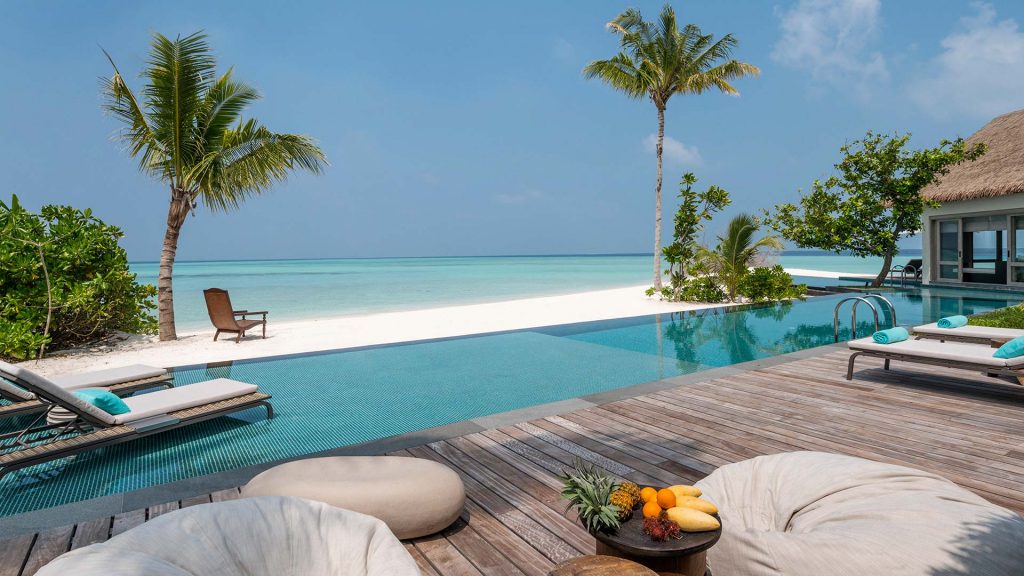 Four Seasons Private Island
Now, this is a pure, high-class luxury hotel that befits a James Bond 007 movie-style background. A luxury hotel on a calm, secluded private island exudes style, class, and power paired with a luxury lifestyle. Located at Voavah, Maldives, the luxury island hotel provides a beach house with seven luxury suites for up to 22 guests at a given time.
The Four Seasons Private Island hotel offers its distinguished guests exclusive use of "Voavah Summer," a 62-foot private luxury yacht, a professional 24-hour security team, and a dedicated staff of 28 to assist you with all the services fit for a royal Prince.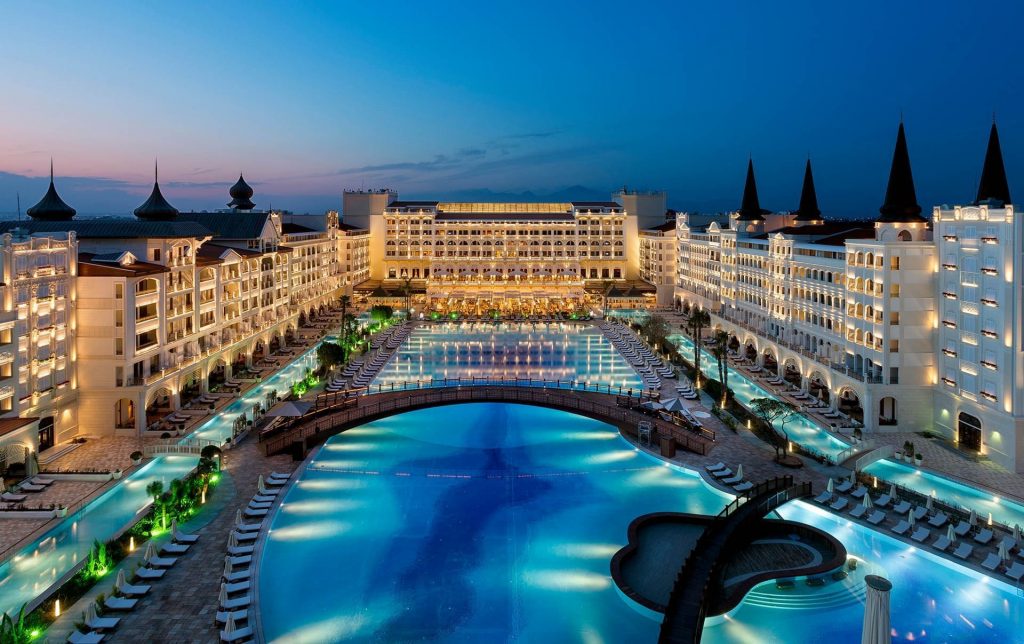 8. Titanic Mardan Palace, Turkey
The Titanic Mardan Palace is a national icon and a famous landmark in Turkey for the rich and wealthy to stay and be entertained. This lavish luxury hotel is built like the architecture of a grand palace, paying homage to Istanbul's iconic landmark – comparing it with the Dolmabahçe Lobby, with its five-story tall glass ceiling and monumental staircase.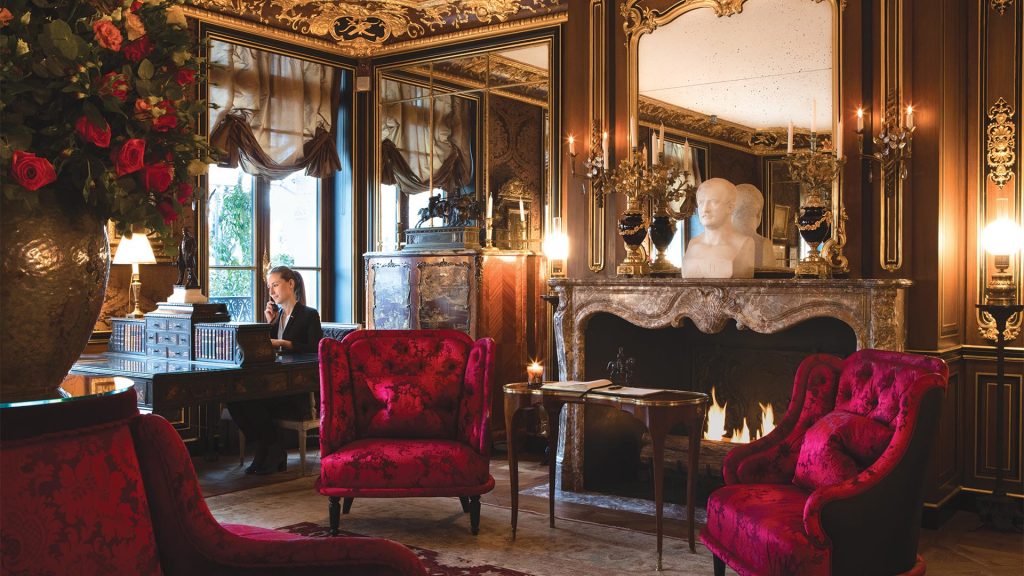 9. La Réserve, Paris
La Réserve Paris offers the best in European luxury and elite amenities with its elegant and antique decor emanating a modern flair. The U.S News and World Report have honoured La Réserve Paris with a title as the No.1 hotel in Europe.
10. Rancho Valencia Resort and Spa, California
After completing a $30 million renovation in 2013, the Rancho Valencia, with its renowned tennis program, multi-cuisine, idyllic climate, and Mediterranean-style villas, offer a perfect getaway from the stressful city life and office hours. Located over the picturesque hills of Southern California, Rancho Valencia Resort and Spa offers a lush holiday experience.
With its world-renowned tennis program, innovative cuisine, and rejuvenating spa, as well as the year-round idyllic climate, remodelled guest casitas with hand-painted tiles and custom furnishings, a brand-new restaurant with an attached bar, among other luxurious amenities, Rancho Valencia Resort and Spa would be an excellent holiday destination.